How to save time with membership renewal automation.
Automating your work, so you can actually do your important work? Yes!

It's more than just an efficient way to work faster and save yourself loads of time; it's a way of streamlining your membership organisation and helping you grow your membership.
The average time people spend on repetitive tasks a week is 4 hours and 38 minutes, which amounts to 10% of people's time at work. That adds up to 219 hours a year, per person. If you convert that into pounds, you might squirm.

Automation can take away the repetitive tasks you do now, like sending renewal reminders (multiple times), collecting and reconciling payments and chasing those members who are always late in paying.
It'll improve your membership retention rate. Give you the time back to provide your members with the benefits they are paying for. Automation will allow members to be more engaged and increase your membership retention rate.
Automation will give you freedom from the mundane tasks that stop you from working on what you love and we don't mean sunbathing! Imagine being able to do the really valuable work you never get the time to do.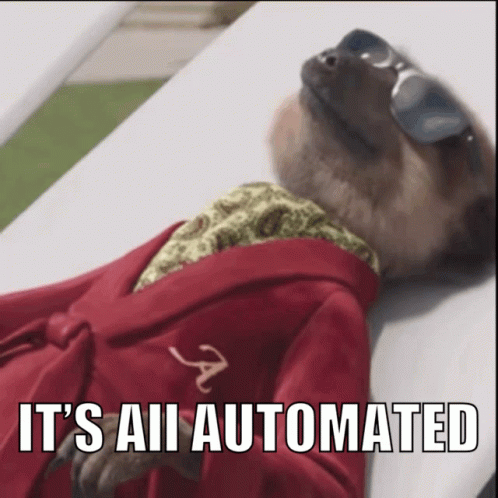 "Automation software is applications that minimise the need for human input and can be used in various ways in almost any industry. At the most basic, automation software is designed to turn repeatable, routine tasks into automated actions".
Step 1 - Automatic membership renewals
One of the biggest challenges we hear from membership teams is managing membership renewals and a key part of that is sending the renewal reminders.
You spend a lot of time preparing and manually emailing your members at renewal time. You copy their email address from your spreadsheet or your database, put it in an email, and send a follow-up email to each member separately. Time-consuming stuff, right?
Well, automating this task and sending follow-up emails to your renewal members will free up a lot of time in your day.
With simple automation, your membership management system will send off the renewal email to your members without you having to do anything and not only that it will send another reminder a week later if they haven't renewed. Amazing!

Tip - Always include your benefits in your renewal email template so they can see what they get for their membership.
Go one step further, automate your payments.
Automating your renewal emails is one thing, but without automating your payments - it'll look like this:-
You've sent the renewal email to your members, you wait for a reply, you get a response, and now you have to raise an invoice and wait for payment. If the payment doesn't come in, you'll have to chase it, and no one likes doing that. If it does come in, you now have to manually reconcile it and mark the membership as paid. It's a never ending, time-consuming nightmare.
Don't forget, your members are also busy; they also want a quick and simple way to renew.

With automated renewals and payments, your members would automatically receive their renewal email with a link to pay and renew their membership. Utilising a membership management system like sheepCRM which integrates with Stripe and GoCardless means your membership payments can be collected and reconciled automatically.
This means your members will renew automatically, payments will be collected faster and your database records updated without you having to do a thing! Really? Yes really, it can be as simple as that.
Membership renewal automation brings simplicity for you and for your members, freeing you from admin pain to do what you love doing.
Read what automation did for Georgina and her team from Elmley Nature Reserve.
"It was just so painful. It took a lot of time, nothing was automated, and we used PayPal to take payments. It took the volunteers a long time and didn't necessarily have that time. It was a vastly complicated procedure. It was easy to miss things or make mistakes,"

We also stopped using PayPal and now use GoCardless, which is much more professional. We've saved so much time and can now concentrate on the nature reserve and providing member benefits.

Georgina Fulton, Elmley Nature Reserve.

Next in our automation series, we talk about automating membership sign ups.